Okay, I'll admit that I have no real tangible reason for the optimism that I have for the upcoming season. The list of areas in which Michigan is seemingly deficient is long:

Quarterback
None of the QBs on the roster has taken a meaningful snap in a college football game. The starter may be a walk-on. The freshman who's best equipped to run the spread is not ready to run it on a regular basis yet. Expect to see some direct snaps to Carlos Brown or other non-QBs several times per game. Each of these sentences sends shivers up my spine and undoubtedly will make me reach for the Maalox on a regular basis while watching games this year.

Experience with new offense
Which is to say, "none." None of the players on the offensive side of the ball has played in this offensive system in college, although some have played in a variation of the spread in high school. It could start out a bit ugly.

Linebackers
After the departure of stud MLB David Harris, I was not real happy with our linebacker play last year. The personnel is similar this year. Coach Shafer's new aggressive style of defense may help, but I'm not sold on the LBs. I hope they prove me wrong. On the bright side, Shawn Crable and his reckless style of linebacking are now gone.

Safeties
Both starters from last year (Adams and Englemon) are gone. Hopefully, upperclassmen can step in, because having freshmen at the safety position is a scary proposition. My trepidation is tempered, however, because of the general ineptitude of Big Ten QBs this year. Still, not an area of strength, in my opinion.

Offensive Line
Only one starter returns from a line that was not all that good last year. Jake Long is gone. Judas Boren is gone. This, to me, is the most critical deficiency on the team. We can survive with mediocre QB play, but a porous OL will hurt the running and passing games. The OL is one injury away from a real major crisis. If the OL can manage to be decent, I'll be happy. If the OL can somehow manage to excel and dominate, the sky's the limit.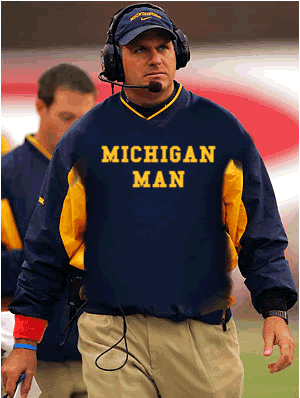 But the list of things Michigan has in their favor is decent too:

Defensive Line
The prospective starters on the DL all have started games at Michigan. Terrance Taylor, Brandon Graham, and Tim Jamison all have the talent to be all-Big Ten performers. This unit is going to have to have a good year, like the 2006 team had (with Branch and Woodley), or it could be a very long season. With the overall experience level of the DL, this is not a concern and this is probably the single strongest unit on the team.

Cornerbacks
Morgan Trent is a very good veteran corner with great speed. Sophomore Donovan Warren is going to be all-Big Ten before he's through at Michigan. Boubacar Cissoko is supposedly impressing in practice. Woolfolk has been coming on. Brandon Harrison is a good nickel back. This is a strength, and with the pressure that is likely to be brought by the veteran front line and the overall lack of quality Big Ten QBs, I would not be surprised to see a lot of INTs registered by this unit.

Wide Receivers
The strength here is in the numbers. While we lost Arrington and Manningham to the NFL, there are several potential bright spots. Greg Matthews is a Jason Avant-like talent - very good hands, but not great speed. Matthews, Clemons, Stonum, Hemingway, and Savoy are more like the prototypical Michigan receiver from past years - tall and rangy. The new generation of receivers is small and quick - Odoms, Robinson, Shaw. I'm excited about the possibilities and the variety. Plus, saying the name "Martavious Odoms" gives me pleasure.

Running Backs
Despite the loss of Michigan's all-time leading rusher Mike Hart, this position is loaded. Carlos Brown and Brandon Miner return from last year, and Sam McGuffie and Michael Cox (and Michael Shaw as well) provide a new infusion of speed and explosiveness. With the spread offense, these guys are also used in the slot, so expect to see these guys all over the place - and several on the field at once.
The Barwis
The conditioning program instituted by The Barwis has revolutionized the way our players train and lift. They are going to be stronger, faster, and have more stamina to finish games strong.

Zoltan
If all else fails and the offense sputters, the all-powerful Zoltan can unleash a sixty yard punt and pin the opposition deep in their own territory. All Hail Zoltan! (At the same time, I fully appreciate the irony of saying that one of the bright spots on the team is the player whose mere presence on the field is a sign of temporary offensive surrender, so don't bother pointing it out)

Enthusiasm of new coaching staff
For the first time in like forever, there is an infusion of new blood into the Michigan program. While I know many (including myself, to some degree) will miss the Bo era, it's time to move on. The RichRod era is upon us and I for one could not be more excited.

Like I said, I am optimistic about this season (go ahead, call me a shameless homer). Last season, Michigan was rated in the top five to start the year. We saw how well that turned out. This year, nothing much is expected of the Wolverines - in fact, most polls do not have Michigan ranked at all. I think the team will be better than most people expect. I'm seeing a 9-3 season, including a victory over the Buckeyes that will send us to a New Years Day bowl game and catapult the Wolverines to securing a solid recruiting class, thereby setting up next year for awesome QB recruit Shavodrick Beaver and his team of lightning quick Lilliputian receivers.

"It's a new dawn."
- Grace Slick

Go Blue!