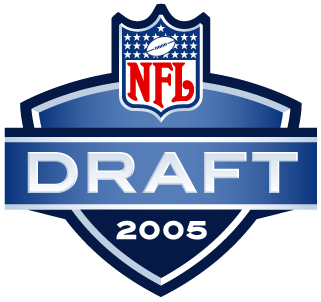 With the latest news that Niner QB Alex Smith is out for the season, and his career for the Niners is probably over, I decided to take a look at the 2005 NFL draft and check the status of the top ten picks in that draft. Smith was the top pick in the draft. Here are the rest of the top ten. It does not look too good:

2. Ronnie Brown - He is backing up Ricky Williams, of all people, for the Dolphins. While he has had a couple decent seasons, the second pick in the draft has to be considered a failure if he's not a starter and a consistent 1200 yard rusher.

3. Braylon Edwards - He's been great. No complaints. One of the few Michigan receivers that has lived up to his lofty draft pick *coughDavidTerrellcough* and the only one from this list who has made a Pro Bowl.

4. Cedric Benson - Released by the Bears this past offseason, and not currently on an NFL roster. Has been arrested twice this year for alcohol-related offenses.

5. Cadillac Williams - Suffered a patellar tendon tear last year while playing for the Buccaneers, and doctors are doubtful that he will ever come back to full strength.

6. Adam Jones - "Pacman" had an unspectacular rookie season, a very good second season, and was suspended for the entirety of his third season due to legal troubles. He was traded to the Cowboys for a fourth round pick. I'm sure that if you could find a Tennessee Titans fan, he would tell you that Pacman was a huge disappointment. Most well known for "makin it rain" in a Las Vegas strip club.

7. Troy Williamson - The Vikings needed a speedy receiver after trading Randy Moss to the Raiders. What they got was 79 catches in three seasons. He was traded this offseason to the Jaguars for a 6th round draft pick.

8. Antrel Rolle - Missed almost all of his rookie season with a knee injury. Played fairly well last season, but was moved to safety prior to this season.

9. Carlos Rogers - Serviceable cornerback, but has only 150 tackles and 4 INTs in three seasons.

10. Mike Williams - He was the third consecutive WR picked in the first round by the Lions. Two of the three are not only no longer with the Lions, but also no longer playing in the NFL. Williams is one of those. He totaled 44 receptions in three seasons.


By any measure, this has to be the worst overall top ten NFL draft picks in recent memory. One Pro Bowl appearance, two guys already traded, and two guys already out of the league after three years (and not due to injury). By comparison, the 2004 draft has already had six players from the top ten picks make the Pro Bowl, and even the 2007 draft already has two Pro Bowlers.