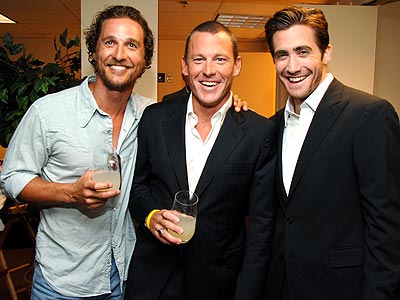 He starts hanging out with celebs like McConaughey...


Lance Armstrong announced today that he is coming out of retirement to try to win his eighth Tour de France title next summer. After a bit of soul-searching, I reached deep inside myself and discovered that I don't care about this even a tiny little bit. To be honest, he could not have timed his announcement any worse. Obviously he should have timed it to maximize the publicity (and make no mistake about it - that's most likely what this is about). But football season has begun, Tom Brady is injured, a MILF is running for VP, and there is an election coming up, so you'll forgive me if I am underwhelmed by the news that another retired athlete (from a very minor sport, at that) has decided to make another run at glory. The last Tour de France title he won was in 2005, so by the time the next Tour comes along, it will have been a full four years since his last triumph at the Arc de Triomphe. How well do "un-retirements" go after relatively long layoffs? Not well.
...and this is what happens
Michael Jordan
Michael took two years off after his second retirement following the 1998 season (and his sixth NBA title), then joined the Washington Wizards prior to the 2001-2002 season. While his stats were respectable for the Wizards, he tore up his knee after 60 games in the 2001 season, and they did not make the playoffs either of the two years he played for the Wizards. His style of play had changed significantly since his high-flying days with the Bulls. He was mostly a low post player who took a lot of fadeaway jumpers and was not as prone to drive to the basket as he was in his earlier years. He was an all-star both years, but at that point he was coasting on his reputation and all-star voting is a popularity contest. Most NBA fans would agree that this comeback was a bad idea.

Magic Johnson
Magic took a physical prior to the 1991 NBA season and it was discovered that he was HIV+. He immediately announced his retirement. After an aborted comeback in the 1992 season, and a failed attempt at coaching in the 1993 season, he decided to have a go at a comeback late in the 1994-95 season. He played the last 32 games of the season (at power forward) and the Lakers lost in the first round of the playoffs to the Rockets. His numbers were decent, but like Michael's comeback, he was a totally different player than his fans remembered. I think most NBA fans would also agree that this idea was ill-conceived.

There have to be others that I'm missing, right? Remember, I'm not talking about Favre-like or Clemens-like retirements that don't even last a full offseason, but rather the ones that were years in length. I'd also like to hear about successful ones too. I just can't think of any right now.

NOTE: By the way, I am purposefully omitting boxers, because they seemingly retire after every big fight, so I can't tell what's an extended layoff between fights and what's a "retirement."