Well, week one did not go as planned for the Wolverines. I'd love to say that Michigan gets a break this week with a MAC school coming into the big house, but App State is still fresh in my mind from last year. However, Utah is a top 20 team, and Miami is not. Michigan and Miami have squared off four times overall, and they last played in 2004 - which Michigan won 43-10. It was true freshman QB Chad Henne's first start, and it was my daughter's first Michigan game. The Redhawks have never beaten Michigan on the football field. Miami is coming off an opening week loss to Vanderbilt. With that, I bring you this week's installment of "Know Your Foe."

History
Miami University was founded in 1809 (!). The land grant for the school was actually signed by George Washington in 1792. The university's first president envisioned Miami as a "Yale of The West." It has instead become the "Yale of The MAC." Undergrad enrollment on the main campus is 14,265.

Location
Oxford, OH - which is about 30 miles northwest of Cincinnati. The "Miami" in the school's name actually refers to the Miami River Valley, which is formed by two rivers - the Little Miami River and the Great Miami River. The river valley was named for the Miami Indians, who lived there before the settlers came, got them drunk, and shuffled them off to a reservation or something. Incidentally, I have a feeling that the theme of "named after Indians whose land they settled on" is going to be a common theme in the "Know Your Foe" series. So far, we're two-for-two.

Nickname
They were formerly known as the Redskins, but at the request of the Oklahoma-based Miami tribe, in 1997 they changed their nickname to the Redhawks.


Colors/Logo/Fight Song
The Redhawks colors are exactly what you'd expect of a team with "red" in their name - Red and White. The logo is of course a Redhawk, but the football helmet is white with a red M outlined in black.

The fight song seems like a short and insignificant little ditty, but the Alma Mater of Miami is full of haughty biblical language and imagery:

Old Miami from thy hillcrest,
Thou hast watched the decades roll,
While thy sons have quested from thee,
Sturdy hearted, pure of soul.

Aging in thy simple splendor,

Thou the calm and they the storm;
Thou didst give them joy in conquest,
Strength from thee sustained their arm.

Now of late thyself envigored,
Larger usefulness awaits;
Hosts assemble for thy blessing,
Youth and maiden throng thy gate.

Thou shalt stand a constant beacon,
Crimson tow'rs against the sky;
Men shall ever seek thy guiding,
Pow'r like thine shall never die.

Chorus*:Old Miami! New Miami!
Days of old and days to be;
Weave the story of thy glory,
Our Miami, here's to thee!

*The chorus is sung between each verse and at the end.

Are you kidding me? Thee? Thine? Thou?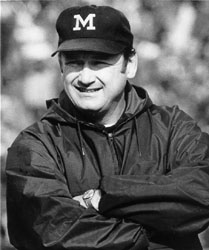 Academics
According to US News and World Reports, Miami ranks a surprisingly respectable 66th, on par with the likes of Purdue, SMU, UConn, Iowa, and Texas A&M (as a reference, Michigan ranks 26th). Their business school is ranked as the best in the state of Ohio, and eighth best nationally among public schools. It's by far the top academic school in the Mid American Conference (the next MAC school on the list is Ohio, down at 116).

Athletics
The Redhawks last went to a bowl game in 2004, when they lost to Iowa State in the Independence Bowl. Strangely enough, they actually played in something called the "Salad Bowl" in 1951. The hockey team plays in the CCHA, where they have been moderately sucessful. The mens basketball team (coached by irascible curmedgeon Charlie Coles) has traditionally been pretty successful, making the postseason the last three years. Miami is also home the one of the country's few sychronized skating teams. They won a silver medal at the 2007 International Skating Union World Synchronized Skating Championships. So they've got that going for them - which is nice.

Famous Alums

Miami is one of only four universities (the others are Stanford, Michigan, and the Naval Academy) to produce both a US President (Benjamin Harrison) and a Super Bowl winning QB (Ben Roethlisberger). Other famous alums include author PJ O'Rourke, actress Tina Louise, and a disturbingly large number of reality show cast members (total of at least three). Actually, I think the more disturbing thing is that wiki lists reality show cast members as famous alums. I think it's a sign that the alumni list is not terribly extensive. Due to the strength of the business school, there are lots of CEOs on the list, but no one I would consider famous.

Miami is also known as the "Cradle of Coaches," due to the prominent coaches who were students/athletes/coaches at the school. Among these coaches: Paul Brown, Sid Gillman, Woody Hayes, Ara Parseghian, Weeb Ewbank, Ron Zook, Jim Tressel, and of course Bo Schembechler.

The Game
Miami came into the season with a pretty decent outlook (16 starters returning, including 9 on defense) and CFN called them the team to beat in the MAC, but their 34-13 loss to a mediocre Vanderbilt team opening week says otherwise. Vandy ran for 269 yards against Miami's defense. This bodes well for Michigan's anemic ground game, which was completely inept against Utah. Expect to see a lot of the Michigan ground attack, but the QBs need to get some confidence thru the air as well. Michigan should be able to control the line of scrimmage against the relatively puny Miami defense and open some holes for Minor, Shaw, and McGuffie. This should open up the passing lanes for presumptive starter Steven Threet, and Michigan should be able to coast to a victory. Michigan 35 Miami 10.


Go Blue!